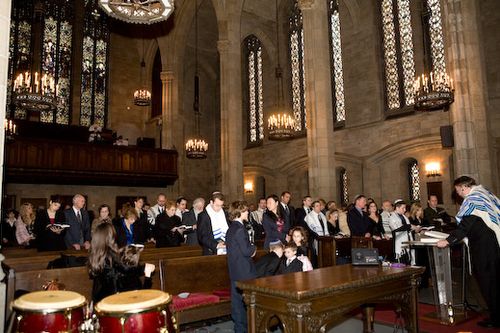 "And they were all together, and of one accord." – Acts 2:1
Our fellowship is welcoming of all life stages and ages, and we enjoy unity in our diversity.

We are young and senior, men and women, single and married, teens and tots, Jewish-by-Birth and Jewish-by-Choice, lovers of Israel and Visitors for a day or season – and you are welcome to visit or join us!

A Word from the Rabbi – True Community Springs from Vision and Commitment
"Without vision, people break away." – Proverbs 29:18


Since every arena in life is composed of a combination of beauties and difficulties, and there is no normative location, job, relationship, family or activity that is an exception; retaining one's personal sense of well-being in the midst of life's always fluctuating seasons is greatly fed by being planted in a place in which one has the sense it is "the" place to be for that season of life.

It was my experience when I first came to Manhattan that the Messianic Jewish Believers here had developed a survival habit of distributing their affiliation across many congregations and para-congregational organizations, because many works in The City had short life-spans, a multi-locational life assured that if one thing went down, the five others were still afloat, and life could go on. The problem with this survival technique is similar to an "attachment disorder" that would arise in a child who changed schools twice a year for the first six years of life: once actually settling into a stable home, there would be no established habits or skills for making long-lasting commitments.

Beth El of Manhattan was planted in 1993 for the marathon, not the sprint. Since Scripture forbids conferring spiritual responsibility on people known for only short time spans (Prov,. 26:10, 1Tim. 5:22, 2Tim. 3:14), building a healthy community makes necessary the development of long-term relationships with firm commitments rather than "passing by." Being always on the move may keep one from sinking – but it also keeps one from being known, which prevents the "iron sharpening iron" manner in which community life helps a Believer grow. And being always on the move prevents the perennial visitor from giving back to a community as well as receiving from it. As another New York synagogue put it, true community not only inspires – it requires.

We encourage people to take their time getting to know us – listen to the Membership Series on this website, as well as a number of sermons – read our teaching materials – attend many services and events: and if you decide Beth El of Manhattan represents your vision for Two-Testament faith community – then we encourage you to commit to Membership, and start the process of building deep, not just wide. Beyond the multi-location survival dance we first observed in so many Manhattan Messianics when we first arrived, there exists a deeper, more meaningful, and more impactful way to live: the way of true kehilah kedoshah – holy community. Shalom.